At least twelve people are dead after as many as three shooters dressed in military style uniforms opened fire in a rampage at the Washington Navy Yard on Monday, police said, spreading fear and chaos across the region as authorities tried to contain the incident.
D.C. Police Chief Cathy Lanier said in a mid-day news conference that one of the suspected shooters is dead, while authorities are looking for two other suspects wearing green and tan military style clothing.
"The big concern for us right now is that we have potentially two other shooters that we have not located at this point," Lanier said.
Lanier described one as a white male wearing what appeared to be a khaki tan military uniform and a beret, and carrying a handgun. She said police also are looking for a black man, about 50, wearing an olive military-style uniform, and possessing a "long gun."
Police are asking anyone with information on these two people to call 202-727-9099.
Two law enforcement officials said there are at least nine fatalities, including the shooter. The dead shooter had an assault rifle and a handgun, two law enforcement officials said. One said he also had a shotgun.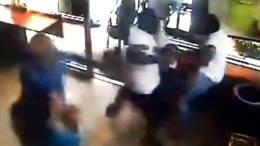 The officials said police are working under the theory that there may be additional shooters because of witness accounts and surveillance video. One of those officials also said all the weapons were not accounted for.
At least two police officers were among those shot. Police on the scene said one is a D.C. Metropolitan Police officer who was shot twice in the leg and was evacuated to a hospital. Lanier said he was in stable condition after engaging the shooter with gunfire. The other was a base officer. The D.C. officer, a male, was conscious at MedStar Washington Hospital Center and his chances for survival were good, hospital officials said.
Janis Orlowski, the chief medical officer at Washington Hospital Center, said three victims in all were brought to the center, all in critical condition but alert, responsive and able to talk with doctors. The victims were also able to speak briefly to law enforcement officers before undergoing surgery or treatment, she said.
The other two victims at the hospital were female civilians, Orlowski said at a press conference. All are likely to survive.
Ten public and charter schools and a public school administration building in the District were placed on lockdown as a precaution, and flights out of Reagan National Airport were briefly halted, causing delays even after they began departing again.
Adm. Jonathan W. Greenert, the chief of Naval Operations, was evacuated from his residence at the Navy Yard complex shortly after the first report of shots fired, Navy officials said.
Greenert, a four-star admiral and member of the Joint Chiefs of Staff, was safely evacuated to the Pentagon along with his wife, Darleen, said Cmdr. Ryan Perry, a Navy spokesman.
The U.S. Navy said that three shots were fired around 8:20 a.m. at Building 197, where about 3,000 people work.
Rick Mason, a program management analyst who is a civilian with the U.S. Navy, told the Associated Press that a gunman was shooting from a fourth floor overlook in the hallway outside his office. He said the gunman was aiming at people in the building's first floor cafeteria.
Tim Jirus, a Navy commander who works in Building 197, said that as he was evacuating the building he saw a co-worker who had been shot getting into a police car, and heard more shots fired from inside his workplace.
A worse sight lay just ahead. Jirus went to an alley where he thought he would be safe, and talked briefly with a man there about what was going on. Jirus said he heard two gunshots, loudly echoing off the building. It caused him to spin around and look in the direction of the sound. When he turned back, he looked down and saw the man he had been conversing with lying on the ground, shot in the head.
Uncertain where the shooter was, he ran.
"I was just lucky," he said. "The other person was shorter than me. There were two shots, he got that guy, he didn't get me. . . .The randomness of it -- standing right next to me, one person gets shot."
David Stevens, a Navy contractor, was on the phone talking in building 197 when he heard an initial volley of shots fired. He heard people shouting that a shooter was on the building's fourth floor.
He said he ran to the edge of a glass atrium that overlooks all the floors and glanced up, only to hear a "second deluge" of shots. The fire alarm sounded, and people began exiting the building.
Stevens described the building as very secure. He said employees must present an ID at the entrances. Visitors must have security clearance to get in.
"It's unbelievable that someone could get a rifle in there -- if that's what the shooter had," he said.
Two Navy yard employees interviewed on CNN said they were fired on in a hallway by a gunman they described as a tall black man.
A woman who gave her name as Terry Durham said that as she and co-workers were evacuating, she saw a man down the hall raise a rifle and fire toward them, hitting a wall. "He was tall. He appeared to be dark-skinned," she said.
"He was a tall black guy," said her co-worker, Todd Brundage. "He didn't say a word."
One man who said he was at his desk on the second floor when the shooting began recalled hearing a loud noise "like someone dropping an old metal desk." The man, who declined to give his name, said there was a pause, then several noises close together and he realized the danger: "There's a shooter in the building. I started walking toward the door and I heard people running down the hall."
Employees described the chaos, as a fire alarm sounded and people shouted, "Where is he? Where is he?"
Police closed the 11th Street Bridge as well as M Street SE between 2nd and 4th streets SE due to the shooting. Entrances to the Navy Yard Metro station remain open.
U.S. Capitol Police confirmed enhanced security at the Capitol, but no immediate threat.
A person is evacuated by helicopter.
As helicopters circled overhead and emergency vehicles continued to rush to the scene, crowds of onlookers gathered on sidewalks and at a construction site near the Navy Yard, but police pushed them back, yelling at them to keep a distance from the grounds.
President Obama on Monday expressed sympathy for the victims of the shooting in the Navy Yard in Southeast Washington and said justice must be sought.
"I've made it clear to my team that we want the investigation to be seamless, so that local and federal authorities are working together," he said.