TIFFIN, Ohio - A fire that ripped through a mobile home killed a man and five children ages 6 and under just a few hours after the children's mother left to work an early morning shift at a fast-food restaurant.
Anna Angel, right, is comforted by her mother Linda Ramirez, left, while exiting Tiffin Mercy Hospital on Sunday, Sept. 15, 2103 in Tiffin, Ohio. Angel is the mother of the five children that were killed during the fire that swept through a mobile home Sunday in Tiffin, Ohio. The fire also killed a man that is reported to be Angel's boyfriend. The fire was reported shortly before 8 a.m. Sunday in a mobile home park in Tiffin, about 50 miles southeast of Toledo, Ohio. (AP Photo/The Blade, Amy Voigt)
Anna Angel, the children's mother, lived in the home with the children and her boyfriend, a relative and neighbours said.
"She had a whole family and now she has nothing," said Owanna Ortiz, the woman's cousin. "Her kids were her life."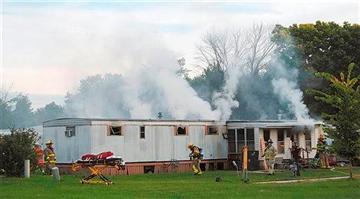 The fire that broke out shortly before 8 a.m. Sunday was fast moving and left neighbours stunned in the mobile home park in Tiffin, about 50 miles southeast of Toledo. Firefighters got all six people out in about 12 minutes, but they were pronounced dead at a hospital, Tiffin Fire Chief William Ennis said.
Authorities would not confirm the identities or relationships of those killed or comment on a possible cause. A state fire marshal's investigator said there were no indications of anything suspicious and it could take up to two days before authorities know how the six died.
"We won't release any more information until we know the cause of death," state investigator Tim Spradlin said.
Ortiz said Angel had four daughters of her own as well as a son with her boyfriend. The Blade newspaper in Toledo reported that Angel identified the children at the hospital where they were pronounced dead.
The family didn't have a car and had to get around on bicycles, Oritz said. "If she had to get somewhere, they had two strollers they had to take, but they made it work," Ortiz said.
Angel was at work Sunday morning when she was told there was a fire at home, Ortiz said.
The two oldest children were in kindergarten and first grade, she said.
"They were always happy and full of sunshine," she said. "The older ones looked out for the younger ones."
Outside the charred home, neighbours stared at the trailer where left in the yard were a stroller, a little pink bicycle and an adult bicycle with a bike trailer for kids.
Nancy Williams, who manages the Highland Park Estates mobile home park and also lives there, said she yelled to her son to call 911 and ran to the home when a neighbour alerted her to the blaze.
"I knew there were babies in there," she said. "But once we got there, there was nothing we could do. It was fully engulfed in flames and we couldn't get in."
The fire chief said there was heavy fire in the centre of the mobile home and heavy smoke throughout it when firefighters arrived. Witnesses said the fire burned quickly, breaking out windows and peeling some of the trailer's aluminum siding.
"I watched the babies get dragged out," said neighbour, Rick Hummell. "It just made me sick."
He said he often saw the children outside and would give them money when the ice cream truck came through the trailer park. "She was always good to her kids," Hummell said of Angel.
Louis Keller lived across the road from the home that burned. "They would come over and play with my dogs," he said, as a strong smell of smoke blew across his yard.
Harry Miller, chief of the Bascom Joint Fire District outside Tiffin, said about 30 members of his volunteer department assisted Tiffin firefighters. He said fires involving children are among the most difficult for firefighters to handle.
"We had some new EMTs on the scene as well, and it's very tough on everyone when it involves kids," Miller said. "It hits home because we all have kids."