Two women in Haslet, Texas, hope their new product to fight mosquitoes, made from cow poop, attracts buyers.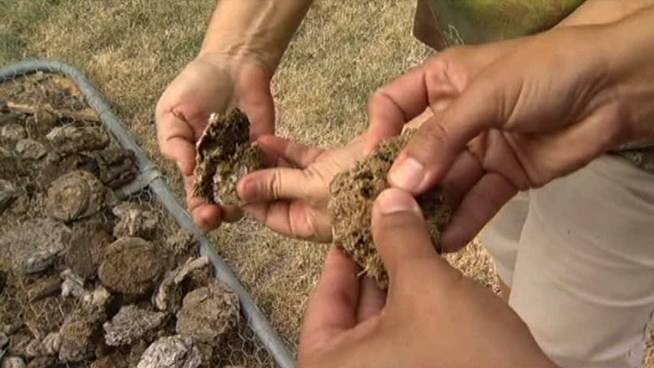 "Their first response is, "Does it smell?' So, we have to let them know it's not a stinky product," said Kia Poulos.
"People say, 'I never thought I'd come to the farmer's market to buy poop.' And I say, 'I never thought I'd be selling it or picking it up,'" said Amy Enlow, Kia's friend and business partner.
The women harvest cow poop, put it in a pretty package and sell it as mosquito repellent.
"It is Cow Poop, Organic Mosquito Repellent," said Poulos. "We didn't want to hide what it was."
They got the crazy idea from the Discovery Channel show Survivorman with Les Stroud.
Poulos was watching it one night and saw Stroud burn a cow patty to build a fire then discover that the smoke worked as a bug repellent.
Poulos decided to try it after unsuccessfully using other products.
"Everything they've ever formulated, I've tried," said Poulos. "And mosquitoes love me so much, it seemed never to work. And sure enough, it (the cow patty) works. I was amazed by it."
Poulos and Enlow stroll through a friend's pasture looking for the perfect patty.
"We try never to touch anything that smells," Poulos said.
"If it's green, stay away," said Enlow.
"We're picking up a certain kind of poop," Poulos said. "It has to sit out there long enough to get dried, and it's better if the cows have knocked it over so it's dried on both sides. And you can tell it's just compact grass, which is all that's left once it's gone through the stomach."
The women let the manure dry a few more days, then put it under a UV light to kill any left over bacteria.
They drop the pattys in a burlap bag, stencil the name on it and sell it every Saturday for $7.50 a bag at the Keller Farmers Market and in local mom-and-pop stores.
"You just burn it," explained Poulos. "You're gonna light a piece of dried poop, let it smolder and that smoke is gonna repel all the mosquitoes."
"It does not stink," said Enlow.
"A lot of people walk by and say, 'Ooh, smells like a camp fire.' So, you get some compliments," Poulos said.
Poulos and Enlow admit, though, it's sometimes tough for people to accept the product, and they've heard their share of jokes.
"We're called 'The Poop Ladies,'" smiled Enlow. "Some people laugh about it. And some people are like, "Ooh, cow poop."
But the ladies are serious about what it can do.
Poulos said, "This is real. It works. And it's just dried cow poop."
The ladies' product can be found at the following locations:
Keller Farmers' Market, Keller
Haslet Feed and Outdoors, Haslet
Dudley Jack Rock & Stone, Fort Worth
McDonnell, Keller
Lucky Luke's', Roanoke
The Classy Cactus, Justin
Shell Gas Station, Roanoke
Marshall Grain, Fort Worth
Foreman's General Store, Colleyville
Krum Farm & Feed Supply, Krum
source
Repel Mosquitoes by Burning Cow Manure
Two Halset women known as "the Poop Ladies" are packaging dried cow manure and selling it as mosquito repellant.