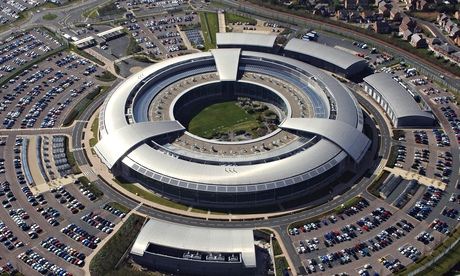 GCHQ, Britain's electronic spying agency, intercepted and stored images of 1.8m Yahoo users taken from their personal webcams even though most of them were not suspected of wrongdoing, documents leaked by the whistleblower Edward Snowden show.
A secret programme called "Optic Nerve", run in conjunction with the US National Security Agency, recorded millions of webcam images from ordinary internet users – as many as one in 10 of them sexually explicit – "in bulk", the UK's Guardian newspaper reported on Thursday.
"Optic Nerve" tapped into Yahoo users' accounts and took still images from their computer webcams every five minutes.
Yahoo reacted angrily to the revelations, denying all knowledge. A spokesperson for the company said the covert surveillance programme represented "a whole new level of violation of our users' privacy".
Security analysts say GCHQ may have collected the webcam images to help link potential terror suspects or criminals with different accounts and communications platforms they used on other computers.
The "Optic Nerve" disclosure is the latest from the huge cache of secret documents that Mr Snowden – a former private security contractor – stole from the NSA last year. Mr Snowden is now a fugitive in Russia.
"It is a longstanding policy that we do not comment on intelligence matters," a spokesperson for GCHQ said.
"Furthermore, all of GCHQ's work is carried out in accordance with a strict legal and policy framework which ensures that our activities are authorised, necessary and proportionate, and that there is rigorous oversight, including from the secretary of state, the Interception and Intelligence Services Commissioners and the Parliamentary Intelligence and Security Committee," they added.
Separately on Thursday, parliament's home affairs select committee issued a summons compelling the man in charge of judicial oversight of the UK's intelligence agencies to appear before it and give evidence.
Sir Mark Waller, the intelligence services commissioner, has been ordered to appear on 18 March. Sir Mark had earlier refused an invitation to attend the committee and give evidence on his oversight of the intelligence agencies.
GCHQ's head, Sir Iain Lobban, has previously defended the agency's data-collection methods as being akin to looking for needles in "an enormous hay field".
The agency only aims to "collect hay" from "those parts of the field which might be lucrative in terms of containing needles or fragments of needles" in a "tiny proportion" of the whole field, Sir Iain told parliament's Intelligence and Security Committee last year.
Yahoo has been a vocal member of the coalition lobbying world governments to limit their authority over user information and increase transparency over what the security agencies do access.
A Yahoo spokesperson said: "We were not aware of, nor would we condone this reported activity. This report, if true, represents a whole new level of violation of our users' privacy that is completely unacceptable and we strongly call on the world's governments to reform surveillance law consistent with the principles we outlined in December. We are committed to preserving our users' trust and security and continue our efforts to expand encryption across all of our services."
Marissa Mayer, Yahoo chief executive, said late last year the company would fight hard to preserve the trust users place in it. She announced that Yahoo would encrypt all its products, a process which is still ongoing. "There is nothing more important to us than protecting our users' privacy," she said.