Toronto Mayor Rob Ford says rehab 'amazing,' will be back to 'kick butt'.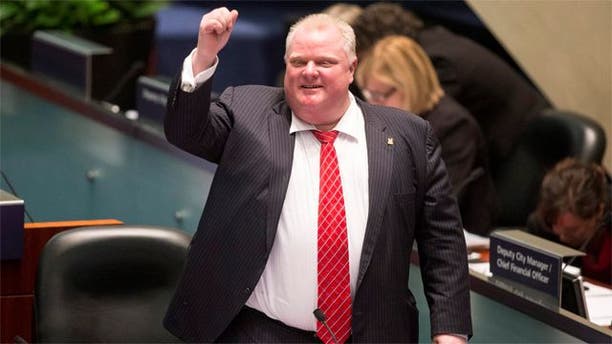 Embattled Toronto Mayor Rob Ford said rehab "is amazing" and his supporters shouldn't worry because he will be back for the election in October.
"I will be on the ballot for mayor in October, guaranteed, and I will do well," he said in an interview with the Toronto Sun. "On Oct. 28, there will be no need to change the locks. There will be no need to clean out my office because I am coming back."
Ford, who is on a leave of absence and at a treatment center following a second alleged recording of crack cocaine use, says he is, "going to kick butt."
According to the Sun, Ford is in a working rehab.
"I asked for my calls sheets and I am making calls to constituents," he told the paper. "I am getting help, but I still want to help."
"It reminds me of football camp. Kind of like the Washington Redskins camp I went to as a kid," Ford said of the program.
Ford said he woke up on April 29, the morning after he was allegedly taped drunkenly ranting at a pub, and told his brother, Toronto City Councilor Doug Ford, "That's it."
"I told Dougie, 'I am going away' and then started looking up rehab and treatment centers," he told the Toronto Sun.
Ford would not comment on whether the treatment facility is in Canada or on reports that he was turned away from the U.S.
There is no timeline for Ford's return, the report said.